Past Events
Western Region: Practice Adjudication (November 2015):
Congratulations to all of the students participating in the Western Region practice adjudication!
---
Phonathon (October 2015):
Phonathon was a massive success! 1,100 pledges were sent out. Thank you to everyone who came and helped out!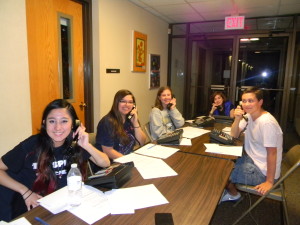 ---
CHANTICLEER (March 2015):
The Chamber Singers had an incredible day of music making and learning as they participated in the Chanticleer Choral Festival. They were nothing short of spectacular as they performed with such professionalism and artistry that they won overflowing praise from the individuals of this Grammy Award winning group as well as the directors from the other participating choirs. In addition to their exceptional musicianship, our students also displayed a keen focus and fully participated in the learning process. Below please see the Chamber Singers in performance, Chanticleer in performance, and the Massed Choir performance with all participating choirs as well as Chanticleer. What a thrill!